Ash Wednesday is March 2, 2022. There are many ways to prepare for the Lenten season and Easter. Many people give something up for Lent to remind them of Christ's humility and sacrifice. Others like to adopt a spiritual discipline for the season like attending Lenten services, reading the Bible more, doing extra devotions, fasting, or other disciplines.
A devotional book my family enjoyed last year during Lent is The Easter Storybook: 40 Bible Stories Showing Who Jesus is. We were given the Advent version a few years ago and thought it did an amazing job pointing to Jesus as our Savior, so we purchased the Lenten/Easter one and we enjoyed it as well.
The pictures are beautiful and colorful. The Bible readings are under the description of the day's lesson. Often there is one chapter of the Bible listed to read. If a narrative is in multiple books of the Bible, all of the chapters are listed. Example: Jesus in the Temple is only in Luke 2 so that is the listed reading for the day. The Baptism of Jesus is mentioned in all four Gospels so the readings include: Matthew 3, Mark 1, Luke 3, and John 1.
After the reading, there is a one page devotion mentioning the Biblical account and the significance of it. The devotional is for a wider audience, but does a great job focusing on how these accounts show Jesus is the Messiah. It also does a good job simplifying, but not necessarily watering down topics. They describe Jesus as being holy, "He was all good with no bad." The content doesn't fully dive into a theological understanding of what Baptism or the Lord's Supper is. Iit does use each specific account to point to who the Messiah is. Even when the account is the Last Supper, it is done delicately, discussing Jesus washing His disciples' feet, stating the Words of Institution, and talking about the covenant God made with His people. The description of Communion isn't as deep as we may like it to go, it shares, "Through His body and blood, He offers a new covenant, taking away our sins and writing His law of love on our hearts." It is an accurate statement and parents, grandparents, or whoever is reading these devotions can help better explain what Communion is.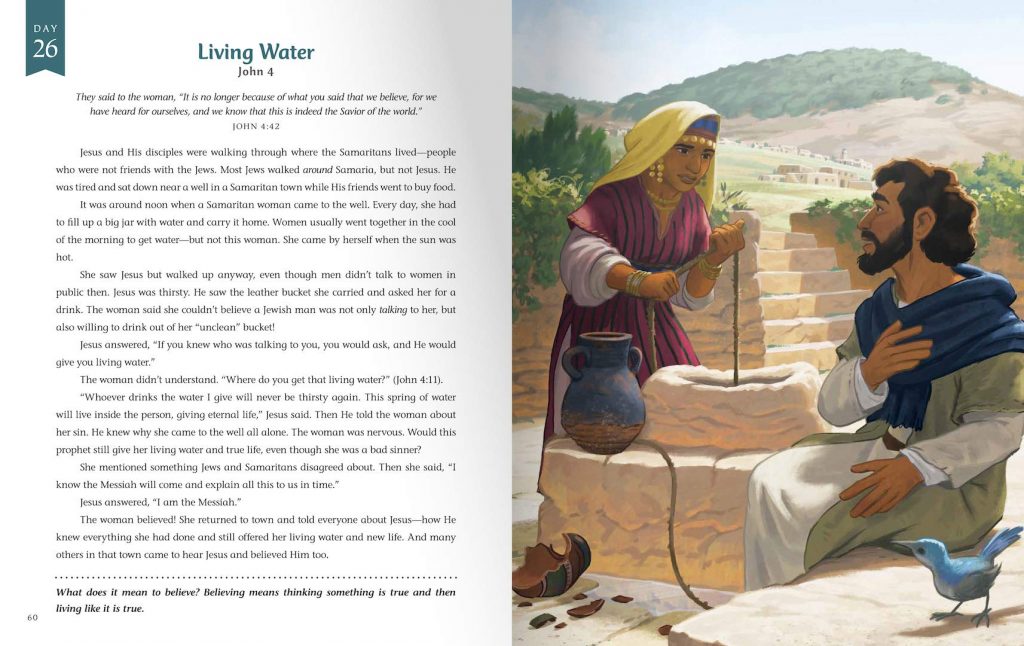 I also appreciate the comprehension question(s) at the end of each devotion. It is a great way to see what everyone remembered from the reading and devotion. Most of them are easy enough a young child could answer, but open ended enough that adults could use it simply as a conversation starter.Anyone looking for a new devotion book for their family or to give as a gift this Lenten season should consider The Easter Storybook: 40 Bible Stories Showing Who Jesus is by Laura Richie. Hardcopies can be found on Amazon for about $20. Amazon also has a look inside where 3 devotions and their pictures are featured.